2018 Seasons Passes: (on sale from Nov 14 2017 – December 25, 2017  Discount will be applied when you add tickets to your cart) 
Regular Season Individual Seasons Pass: $40.00
Tot's Season Pass: $20.00
Flex Pass: $45.00
Discounts for larger families of 5+ available in-store or by calling 403-995-5509 only.
Dayhome Rates available, call 403-995-5509 for details and to order.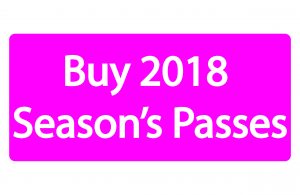 Why should you buy a seasons pass?
If you plan to attend Kayben's Sunshine Adventure Park more than twice in a season.
Season's pass holders can use their passes on any of our festival days for admission!
If you live close by and would like to visit frequently, or for short periods at a time often.
If you have active children and a small yard… use ours any day!
How it works
The user of the pass must be listed on the card, or a "Guest Pass" may be purchased.
The card must be present for admission, otherwise, regular admission will be charged.
The Season's Pass is non-transferable to anyone else.
No refunds or cash value.
Pass includes park admission only.
Valid ID may be requested at any point in the season to verify the card's rightful owner.
$5.00 charge to replace lost cards.
2018 Seasons Passes FAQ's
Q:  When can I use my season's pass? 
A:  Any day that we are open in 2018.  If the weather is warm in March/April, we will open early again on + 10°C days.
Q:  Who needs a pass? 
A:  Anyone age 1 +.  1 year old's require a "tot's pass" and 2+ can purchase a single season's pass.  Families of 5+ can call 403-995-5509 for a discounted rate.
Q:  Is it worth it?
A:  Yes! The pass pays for itself in three visits, so if you plan to come out and enjoy yourself more than twice it would be a very economical choice for you.  It also gives you the freedom to come out for a couple hours very frequently and not have to pay full price each time!
Q:  Will I like it?
A:  We sure hope so!  If you would like to try it out, you can use the value of the daily admission towards a season's pass, on the same day.  The key here is that you have to buy the season's pass that same day.  And you can use the value of what you paid.  For example, if you paid $15 to get into the park, you can put $15 towards a season's pass if you purchase by the end of the day.
Q:  If I buy passes for my family members can grandma come along too? 
A:  One pass = one person's admission.
Q: What is a flex pass and who can use it?
A: Flex passes are for anyone who attends as the guest of an existing pass holder.  They will be identified as  "Guest to the ________family" and can only be used when accompanying a member of the "host" family named on the pass.    Flex passes are $5 more than individualized passes and do not qualify for the large family discount program.
Q:  Can I buy 'dayhome' passes?
A:  Yes, call us at 403-995-5509 for dayhome rates and rules.
Q:  In 2014 you had a family rate for season's passes.  What happened to that?
A:  If you have more than 4 people in your family, the 5th, 6th etc. passes can be purchased at 50% off the current rate.  This can only be done in-store or on the phone, not online.  Maximum 2 adults, must all be members of the same household.